Evgeniy Avdeev
Partner, Audit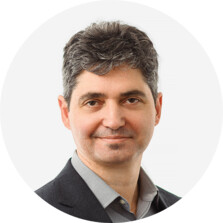 Languages: Russian, English.
Education: Finance Academy under the government of Russian Federation (Economist (Securities)). The ACCA Diploma in International Financial reporting. Auditor Qualification Certificate for carrying out audit activities in the audit of exchanges, extrabudgetary funds and investment institutions, actuarial qualification. Russian Audit License.
In 2020 Evgeniy successfully passed the exam for Actuarial Qualification.
More than 23 years of experience in audit.
The main areas of activity:
Audit of IFRS reporting, consulting insurance companies, management companies, mutual funds;
Maintaining / updating company accounting policies (IFRS), IFRS consolidated reporting methodology;
Maintaining / updating of working regulations / procedures, including procedures for automated systems;
Leader of IFRS 17 implementation internal team;
Development of control procedures;
Engagement in quality control reviews (insurance and investment companies, securities market and asset management, construction and real estate, retail companies etc.) in accordance with ISQC 1, ISA 220 (review of financial statements and working papers, evaluation of significant judgments and conclusions reached).