Sergey Kharitonov
Managing Partner, Audit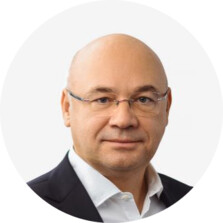 Languages: Russian, English, German.
Education: Finance Academy under the government of Russian Federation. Auditor's qualification certificate for carrying out audit activities in the audit of insurers as well as for general audit activity. Russian Audit License.
In 1991 Sergey founded the Marillion audit company. In 2021 Marillion and Mazars in Russia joined forces and continued to provide services under the Mazars brand while Sergey became a Mazars Partner and headed Financial Audit. In 2022 the Russian practice of Mazars announced a change of governance and continued working under the brand Marillion as an independent company, where Sergey took the position of Managing Partner.
He is a Member of the Expert Group of the Bank of Russia on implementation of risk-based approach to regulation of the insurance in Russia, based on the Solvency II principles.
More than 30 years of experience in audit.
The main areas of activity:
Statutory and IFRS audit, consulting insurance companies, management companies and mutual funds;
Identifying and recruiting talents; supervising audit team members;
Developing audit protocols, strategies and risk-based audit plans;
Resource planning and budget monitoring.